But You'd Better Hurry as There Are Only 2 Performances!
Denis O'Hare, who we all know as Russell Edgington the vampire king of Louisiana in HBO's True Blood, will be performing his one man show again. It's called An Iliad and it tells the story of the Trojan war as based on Homer's epic poem called The Iliad. If you live in the New Orleans area, or will be heading that way over the next few days, then why not check out Denis performing? You need to hurry if you are wanting to attend though as there are only two performances – and opening night is basically a sellout.
All the details are below (courtesy of Nola.com):
When: Sept. 27 and 28, 7:30 p.m.

Where: Contemporary Arts Center, 900 Camp St, New Orleans, LA 70130

Admission: $35 advance; $40 day of show. To purchase go to cacno.org or call 504.528.3800.

Party: The CAC and Scene Magazine are hosting a pre-event, industry mixer with a cash bar, Sept. 27, 5:30 p.m. until show time. The gathering takes place at the café inside the CAC and is free and open to the public.
While the pre-event party does not guarantee who will be attending from the production, there is the possibility that Denis O'Hare will be present.
Here's a preview trailer of Denis in An Iliad:
Source: Nola.com – Want to see 'American Horror Story' star Denis O'Hare in New Orleans? Better hurry!
(Photo Credit: Joan Marcus)
Another True Blood Cast Member is Becoming a Parent:
Actor Denis O'Hare, who played vampire Russell Edgington on HBO's True Blood, has announced that he and his husband are adopting a baby. Mr. O'Hare married Hugo Redwood last year in New York, and the happy couple is close to obtaining full guardianship of their foster son.
Mr. O'Hare says the boy is seventeen months and has been living with them since he was two weeks old. The True Blood nursery is filling up, since Anna Paquin (Sookie Stackhouse) and Stephen Moyer (Bill Compton) welcomed twins earlier this year.
Congratulations to all the new True Blood parents!
Source: E-Online
It's for the Best That Russell Met the True Death:
Denis O'Hare played 3,000 year old vampire Russell Edgington onscreen for only two seasons, but his presence definitely colored a third. Mr. O'Hare says that he had a great time working on HBO's True Blood, but there was no question that it was Russell's time to die. The love story between Russell and Steve Newlin (Michael McMillian) made working on Season 5 a pleasure, and Mr. O'Hare can't rule out a Godric-esque flashback for his character, but he maintains that true death at the hands of Eric Northman (Alex Skarsgård) was right.
Mr. O'Hare says that he didn't know definitively for some time that Russell was going to meet the true death. There was much discussion and controversy as to how it should happen. There was never any question that Russell would die at the hands of Eric, the only question was the circumstances. In the end, making him drunk on fairy blood and leaving him vulnerable to a sneak attack from Eric was the most plausible, given Russell's greater age and power. While some have speculated as to why Russell wasn't more strategic about the time of day he drank the fairy blood, Mr. O'Hare replied:
"There's no fairy blood handbook. No one has any schematics on how much fairy blood you should take to be in the sun, how long you can survive in the sun on it. Is it good for a year? A day? And Russell is more instinctual versus strategic. I'm not sure he has a plan, so he's not thinking, I should wait until 7:30."
The final moment of Russell's life pleased Mr. O'Hare. He enjoyed the disappointed but accepting reaction. Mr. O'Hare believes that Russell has lost the enjoyment of living and the pursuit of power simply is no longer enough. His attachment to Steve Newlin was pleasant, but simply not enough. Mr. O'Hare says that one of the most enjoyable things about Season 5 was working with Michael McMillian. They worked well enough together to be able to improv and adlib scenes and dialog. While much of it was edited out, there were still many things that made it to the screen.
Mr. O'Hare Talks of the True Blood Cast and Speculates on the Future
Of the many things Mr. O'Hare says that he will miss about working on True Blood, he names the cast as what he will miss the most. Not only did all the actors work well together, but they were friends as well, often hanging out together onset. One member of the primary cast (who Mr. O'Hare will not name), continued to advocate to keep Russell Edgington alive. Alan Ball and the head writers sadly could not agree and said:
"For credibility's sake, he has to go. We can't let him survive again."
Mr. O'Hare was asked to speculate on the future of True Blood storylines, and Russell's possible place in them. He says that Bill Compton's story is so divergent from the books there is no way to guess which direction it will go from here. While Mr. O'Hare has written a complete backstory for Russell, and provided it to the show writers, he has no idea if any of it will ever be incorporated into the show. For that reason, he's not sure if Russell's maker will ever become known, or if he has any progeny who might provide opportunities for flashbacks or visitations. Mr. O'Hare says that it's possible that Eric is the closest Russell has ever gotten to feeling as though he had a true son:
"There was a lovely scene in season three where Russell and Eric had an intense moment, where Eric accepts his authority, and kneels before him, and you discover how Russell never had a son and he adopts Eric. That scene was cut, but there is an echo of that when Eric kneeled before him again this season. And for Eric to take Russell's life, it was appropriate, and Russell knew that and he welcomed it. This was the only person he's ever accepted as a son."
How did you feel upon witnessing Russell's true death? Share your thoughts in the comment section below.
Article and Photo Source: Vulture
Denis O'Hare goes from the Face of Anarchy as True Blood's Russell Edgington to the Face of the Law in The Good Wife
True Blood actor Denis O'Hare never seems to fail to exert his power over others: from the chaos-inducing, fairy blood-loving, 3,000-year-old vampire in True Blood to the voice of justice as a judge on The Good Wife, he sure makes others listen! However, even with his busy career, he still makes time for Twitter!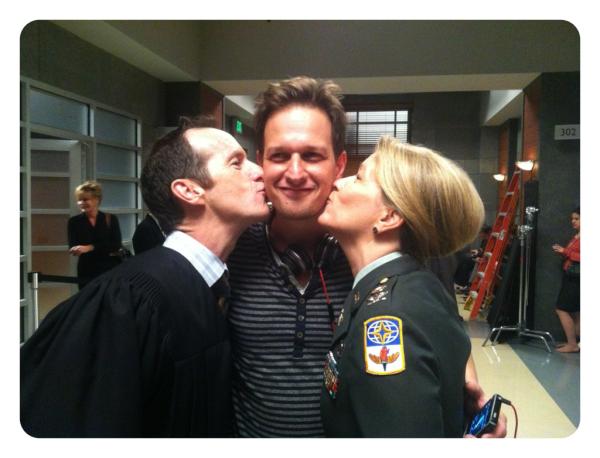 On August 28th, Mr. O'Hare tweeted a funny photo of himself and The Good Wife co-star Linda Emond and co-star and episode director Josh Charles. He then posted another picture of himself with other fellow actors Julianna Margulies and Brian Dennehy two days later.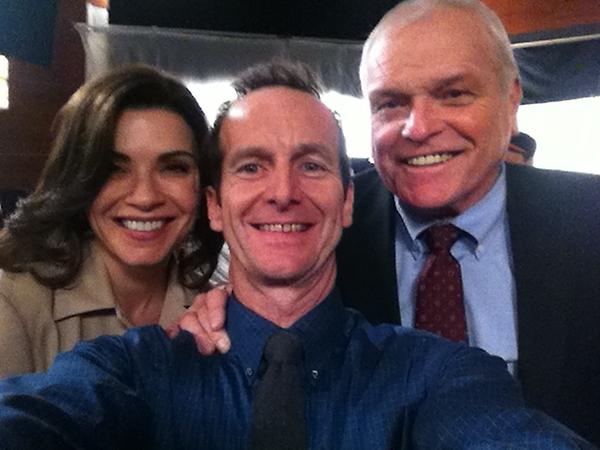 Denis O'Hare will be reprising his role as Judge Charles Abernathy now that his True Blood-filming days have come to an unfortunate end. He was seen on six other cases on The Good Wife from 2009 to 2012, so we're sure glad to see him back! No details have been released regarding this particular episode as of yet, but we're hoping maybe he'll have an encounter with Carrie Preston, also seen on True Blood as the sassy Merlotte's waitress Arlene, who also had a six-episode experience on The Good Wife as Elsbeth Tascioni, an eccentric lawyer.
What will Denis O'Hare bring to the courtroom? The Good Wife Season 4 begins Sunday, Sept. 30 at 9 p.m. ET on CBS. Tune in to find out!
Sources: WetPaint.com, Twitter
Denis O'Hare adapts Homer's Iliad for the New York stage:
Denis O'Hare, who plays the Vampire King of Mississippi Russell Edgington in HBO's series True Blood, has recently adapted Homer's epic poem, 'The Iliad', for the New York stage. Collaborating with friend, Lisa Peterson who also directs, O'Hare wrote, and plays the leading role in this one-man play, 'An Iliad'. Stephen Spinella (Angels in America) alternates performances with O'Hare.
In the early days of the Iraq War, Peterson approached O'Hare about adapting the story of the Trojan War as a platform for performance. They worked on the project periodically over the course of five years until they had a script. When asked how the work was condensed to create the script, O'Hare answered:
"We decided the most basic structure is Achilles meets Hector, the symbols of Greece and Troy respectively. We focused our stories around that central conflict with everything else radiating outward."
O'Hare addressed the differences in acting for both stage and screen. He explained that each has benefits and drawbacks. "Actors must understand the medium in which they are working so they can adjust their performances accordingly."
True Blood update
When the subject of True Blood came up, O'Hare said that he would be returning to the HBO series during the run of 'An Iliad'. He explained that he is scheduled to film briefly in mid-March:
"Then I'm back in L.A. at the end of March to shoot some more. I've read about six scripts. They've got some very nice stuff planned."
'An Iliad' officially opened March 6 with O'Hare and March 7 with Spinella at New York Theatre Workshop, 79 East 4 St., NYC. 212-460-5475.
Source and photo: Back Stage
His Play to be Performed in Chicago Until December 11:
The actor who plays our delightfully villainous Russell Edgington in True Blood and the pernicious, grotesque and suspicious Larry on FX's American Horror Story has another trick up his sleeve: he's co-written a play based on Robert Fagle's English translation of Homer's infamous Trojan War epic, The Iliad, with respected director Lisa Peterson.
Since 2005, the two have crafted "An Iliad" into a one-man show, out of the epic, that originally opened in 2010.  O'Hare has not acted in it so far, due to his TV/film commitments, but plans to alternate with the lead star (Stephen Spinella from Angels in America and Spring Awakening) in the New York Theatre Workshop's run beginning in February 2012.  In the Chicago production, currently running at the Court Theatre, "The Poet", here played by Timothy Edward Kane (The Illusion, Rock 'n' Roll) was cast by the Court's artistic director Charles Newell.
"Our hope is by the end of the evening that you not only understand something about the impulse, or as the text says 'this rage contained within all of us,' but also how we have a choice with what we do with those emotions," Newell said, adding that the actor Kane "is just turning himself inside-out emotionally in a very exposed and dangerous performance that I think will have some real impact."
O'Hare is a Michigan-native, graduate of Northwestern and was first seen on stage in Chicago before moving to New York and acting in productions of "Cabaret," "Assassins," and "Sweet Charity."  He won a Tony award for his performance in Richard Greenberg's gay baseball drama, "Take Me Out."
An Iliad continues through December 11 at the Court Theatre, 5535 S. Ellis. Performances are at 7:30 p.m. Wednesdays and Thursdays, 8 p.m. Fridays, 3 and 8 p.m. Saturdays and 2:30 and 7:30 p.m. Sundays. Tickets are $40-$60 for the regular run. Call 773-753-4472 or visit CourtTheatre.org
O'Hare, Peterson and Newell discuss much more in an interview (which discusses the play, O'Hare's personal life, etc.) in the Windy City Times and I would highly suggest all Truebies check it out and let us know what you think in the comments section!
Source: Windy City Times
O'Hare Thrives at Playing the Archfiend:
The Boston Herald interviewed Denis O'Hare, who plays the nefarious malefactor Russell Edgington in True Blood's third (and possibly fifth?) season.  He can now be seen in FX's new scary-psych-drama American Horror Story.  O'Hare said, "I love a good villain.  There is nothing clear-cut and simple about a villain. Ever."  As a kid, the macabre enthusiast's hero was Vincent Price in "those old Saturday afternoon horror films… they really stayed with me.  I was a monster freak growing up."
He describes his new show, American Horror Story, as a mix between The Shining, Twin Peaks and The Amityville Horror.  "It's not simply a horror show… It's a lot more psychological, but the style is so odd and forward-thinking," O'Hare remarks.  He plays Larry, a former owner of an unholy, grim and possessed house into which Dylan McDermott's character and family have recently moved.  As a burn-disfigured and tortured man, O'Hare says Larry warns the new residents about the house's malevolence "out of a strange compulsion to be set free.  He's looking for redemption — a way out."
Despite Larry's dark past (from which he covets redemption,) and three and a half hours in the makeup chair, O'Hare concedes that Russell Edgington is much scarier.  He's "a passionate character whose only motivation is to stay alive. He is so filled with forward motion and momentum about what he wants to do that he's burning up with a desire to act. Of course, Russell is amoral in the great pagan sense — he doesn't have the burden of our Judeo-Christian morals. He's hard to parse because he's playing by a different rule book."
O'Hare, like the rest of the True Blood cast, is reticent to reveal any spoilers for the upcoming season.  He says, "I have no idea what the writers will do. I have my ideas, but it might not be a straight linear line from the end of the last season."
So until then Truebies, check him out on FX in American Horror Story, Wednesdays at 10pm.
Source: Boston Herald – O'Hare Splits Villainy in Two
Photo: HBO
The Actor Opens Up About His Role as Larry Harvey:
Denis O'Hare's exclusive phone interview with Collider is an insightful peek into the mind of the actor and the challenges of the role that he plays as Larry Harvey on FX's newest psychological thriller, American Horror Story, which debuted October 5, 2011.  The series has consistently improved its ratings since its pilot episode. Executive producers Ryan Murphy and Brad Falchuk appear to have backed the right horse in this competition to secure a faithful following.
The series is about a family of three who move from Boston to Los Angeles in an effort to make amends with their past, only to find out that they are not the only residents of their new home.  They will be forced to face their fears, and their past, while living in a home that may have more secrets than they do.
Denis O'Hare plays Larry Harvey much like his character Russell Edgington, the King of Mississippi on HBO's True Blood.  It appears that O'Hare has an eye for selecting roles that are going to become huge hits.
When asked how he would describe this series to people he responded:
"It is difficult, I've said it's like The Shining meets Twin Peaks meets The Amityville Horror meets Lars Von Trier's The Kingdom. It's got elements of all of that. It's got the weirdness of the population of Twin Peaks, it's got the crazy momentum of The Shining, and it's got the haunted house, slow motion reveal of The Amityville Horror. But ultimately, it's its own thing and it lives in the mind of Ryan Murphy."
O'Hare assesses what kind of audience this show will draw in, and speaks very highly of his cast-mates:
"I think there's a really big overlap between sci-fi and horror…When you've got unbelievable actors like Connie Britton, Jessica Lange, Dylan McDermott and Frances Conroy, you're going to be drawing in a different dynamic. Jessica Lange, alone, raises the bar so high that it peaks people's interest. Connie Britton, coming off the success of Friday Night Lights, certainly brings an audience with her. We may even get some vampire fans watching the show."
If O'Hare's performance in American Horror Story is anything like that of his role on True Blood, he is certain to gain a loyal following. He speaks of his role as Larry Harvey with a passion unique to many interviews that are out there.  It is evident that O'Hare is completely connected to his character, and is excited to watch this character develop. The imagery that he uses makes it impossible for the reader not to be interested in this character. He refers to Larry as "a Dante-esque figure, stuck in the 5th Circle of Hell and struggling to get out." He believes that "as the series develops, even what we think we know about him is not accurate." O'Hare continues to create intrigue around Larry's depth of character:
"Even in the pilot episode, we see Larry being a menacing, twisted, awful figure who then, during the scene with Dylan McDermott on the bench, becomes the object of pity who is absolutely a human character feeling incredible amounts of pain. That, to me, is fascinating."
When questioned about whether or not he believes Larry to be evil he replies:
"To me, he's definitely not evil. Evil is such a simplistic way to describe any character, be it Iago or Caliban, or any character from history. What I'm attracted to is the fact that he, like everyone, is yearning to be loved, to be released, to be redeemed, and to be at peace. Each episode only adds more complications to it. I'm always getting so much information that is new."
Psychological thrillers attract a wide audience, the idea of the unknown, and the revelation of the human mind and how it works, is something that draws in the viewer. It creates questions in the mind of the audience and asks the viewer to search into the depths of their own souls to challenge the similarities that may exist between themselves and the characters portrayed.
O'Hare is asked if he is normally a fan of this type of genre, and his response draws on some simplistic comparisons that are both revealing and insightful:
"I'm not into what I would call torture porn, like all the Saw movies and those kinds of things. I find that repugnant. We have enough violence in this country that I don't feel like I need to sit through that stuff, and I don't see the point of it. But, good old-fashioned horror, I love monsters, I love creatures, I love beings, I love aliens. That's more supernatural and more the stuff of fairy tales. Fairy tales are as ancient as we are. I love those stories. I think they're really interesting because they always have more than simply the fright aspect. There's something deeply psychological. When you think of Grimm's fairy tales, they are deeply, deeply psychological. They're so powerful, so bloody, and really, really disturbing. Think about five-year olds reading that stuff. Even Little Red Riding Hood is a really freaky story. Grandma is gobbled up by a wolf, and the wolf is going to eat the girl. That's scary stuff. They're about our deepest fears. And this show is about our deepest fears. It's a way to exorcize them or understand them."
 On His Potential Return to True Blood:
In the finale of Season Four's True Blood the audience is left with the jaw dropping revelation that Russell Edgington, the King of Mississippi's stay in a concrete slab has been cut short — how, we are uncertain, but one thing's for sure, the King is no longer a prisoner of Bill (Stephen Moyer) and Eric (Alexander Skarsgård).
It is obvious that O'Hare is excited about a potential return to True Blood:
"I had been hearing rumors and things, but until I actually heard there was a script, in which they went to the parking lot and found a hole in the ground and chains, I wasn't sure. I've been in contact with people from True Blood, and I'm friends with a lot of them, and Joe Manganiello, who plays Alcide, actually told me first. He was like, 'Dude, there's this scene where I go to the parking lot and you're not there anymore,' and I went, 'Yes!' I'm really thrilled, I love that family. Alan Ball is such a spectacular person to be around and to work for. I'm really excited to get to go back and join them, and I love the character. I can't wait to pick up where he left off."
I'm sure I speak on behalf of many True Blood fans when I say that we can't wait for Denis O'Hare's return to the show, to see how King Russell Edgington will inject himself into the lives of Sookie (Anna Paquin), Bill, and Eric, and unleash a whole new storm of madness, coupled with a deep desire to avenge the love of his life.  In the meantime be sure to tune into FX on Wednesdays at 10pm to catch the all new American Horror Story episodes. For Canadian viewers you can catch the premiere on FX Canada this coming Monday, October 31 in a special Halloween premiere.
So Truebies, have any of you caught this new show? What do you think?
Sources: Collider.com – Denis O'Hare Talks American Horror Story, J. Edgar, and His Return to True Blood
TV By the Numbers – American Horror Story Hits Series High Ratings in Episode 4
Toronto.com – FX Canada Launches Monday with American Horror Story
Photo: IMDb
Congratulations to the Happy Couple!
Denis O'Hare and long time partner Hugo Redwood have made it official!  The public learned the news after Denis tweeted:
"Okay. It happened. Hugo and I just got married."
We here at TrueBloodNet.com want to congratulate the happy couple on their marriage, and look forward to the return of Russell Edgington, King of Mississippi.
Truebies, share your well wishes for the couple in the comment section below.
Source: accesshollywood.com – 'True Blood's" Denis O'Hare Weds
(Photo credit: Denis O'Hare)
He's Back for Season 5!
Russell Edgington is one of HBO's best villians, or so say the fans of True Blood. While Season 3 saw him being buried alive in concrete, we all know that that is not enough to keep a vampire down. There has been plenty of talk since on when he will reappear. Finally, we have confirmation from the man himself via a recent interview with Film School Rejects:
"They were definitely bringing me back, it was just a matter of if they wanted to bring me back the last couple episodes [of Season 4] or bring me back at the beginning [of Season 5]. So they decided to do it at the beginning of season 5."
During this interview, his love for the unhinged character of Russell, was apparent. He had plenty to say on how Russell ended up the way he did. Some of it revolves around Russell's boyfriend, Talbot, while other parts of the character remain true to his earlier identity, before Talbot.
While originally Russell was said to be over a thousand years old, it soon became apparent that he was older still. He was, in fact, closer to 3,000 years old. This would have made his origin to be either from Palestine or Europe. The writers of the show picked a European descent, and in particular, a pagan Celt. This has led to a possible reason for his ruthlessness, since the Celts from that era were basically uncivilized.
Of course, when Talbot appeared in 1300 AD, this changed somewhat. Talbot was a Greek prince, and was used to more civilized traditions. As a result, Russell turned into a refined savage. It's reported that his sense of style improved somewhat from this time onwards also.
Another topic discussed by Jack Giroux from Film School Rejects, is the childlike quality that Russell has. While most vampires are required to be slick and not easily ruffled, Russell is quite different. O'Hare admires this, saying:
"I love that Russell has this intense passion for life; literally a passion for living and a passion for life. I think that actually forms his kind of childlike quality."
The king shows this quality when he walks out into the sun for the first time since becoming a vampire. Although some of this amazement might also stem from his pagan background, since the Celtic pagans were worshippers of the sun god Lugh.
There is a suggestion that Russell reverts back to his uncivilized manner when Talbot dies. This is evident in the "Jar 'O Talbot" that he starts to carry around. Without Talbot, he no longer has the requirement to behave himself. With this occurring, we have the incident of a news broadcaster losing his life.
O'Hare defends Russell and all his craziness with quite a valid argument:
"No, that's the thing about anytime you are playing a character, the characters always think they are right. They have no ability to be objective about themselves. If you are in a fight with the credit card company, you can't see yourself and how shrill you're getting. And you can't see how crazy you are being over the $25 charge. You are simply right."
They go on to discuss the actor's latest work: Hoover, which is directed by Clint Eastwood, for whom he has a lot of respect. While O'Hare will always stick to a script implicitly, due to his stage upbringing, he is more relaxed about directors being able to change scripts as need be. He also loved the fact that Eastwood kept true to Hoover's character, which was somewhat flawed, but still managed to convey the fact that Hoover had a story to tell.
Tell us Truebies, is this good news? Do we welcome the return of the king?
Source: Film School Rejects – Interview: Denis O'Hare Discusses Being The King Of Mississippi
(Photo Credit: HBO, Inc.)