'We all knew it was coming':
Fans of HBO's True Blood were shocked when Brian Buckner announced at the start of the month that the long running vampire series would end in 2014 with Season 7.
According to actor Carrie Preston (who plays the fiery redhead Merlotte's waitress, Arlene Fowler-Bellefluer), it wasn't such a huge shock when Brian Buckner sent them an email about the show's demise:
We were all suspecting it, because all of our contracts were up so they did a renegotiation for one more year and so we thought, 'Oh, it's coming.' But then when you hear it, it's like, 'Oh!,' this pang.
Even though the cast were expecting it, doesn't mean it will be easy to turn up on set for True Blood Season 7. And those last few days will probably be even harder on the cast and crew. Preston explains:
I think we're going to be counting our blessings and really trying to make the most of every moment.
Of course truebie fans aren't going down without a fight; a 'Don't Cancel True Blood' petition has already started. Fans can like the Facebook page (which already has over 3,000 likes) and then sign the petition here. The petition also has a strong following with close to 4,000 signatures already.
What do you think? Should True Blood be back for Season 8 (and beyond), or it it time for it to end gracefully? Let us know in the comments below.
Sources: E! Online – True Blood's Final Season: "We Were All Suspecting It," Says Star Carrie Preston
Change.org – HBO network: True blood should not be canceled
Facebook – Don't Cancel True Blood page
(Photo Credit: HBO Inc.)
2013 Emmy's is Preston's First Nomination:
While Carrie Preston may not have won her Emmy for her outstanding work as Arlene Fowler Bellefluer in HBO's True Blood, but it is still exciting to see this fine actress honored for for work. Preston received her award for the category of Outstanding Guest Actress in a Drama Series for her work in CBS's The Good Wife. She beat Linda Cardellini for Mad Men, Jane Fonda for HBO's The Newsroom, Margo Martindale for The Americans, Joan Cusack for Shameless and Diana Rigg in Game of Thrones. That was some serious competition!
The crew at TrueBloodNet.com would like to congratulate Carrie Preston on her first nomination as well as her first Emmy win.
Source: Huffington Post – Carrie Preston Wins Emmy For 'The Good Wife'
(Photo Credit: HBO Inc.)
Carrie Preston Takes the Entertainment Weekly Pop Quiz:
Ever wanted to know more about Carrie Preston (who stars as newly widowed Arlene Fowler in HBO's True Blood Season 6) but were too afraid to ask? Well, now you don't need to worry because Entertainment Weekly has asked Preston the hard questions this week in their Pop Culture Personality Quiz.
Watch the video (via the link below) to find out:
When she yells at the TV (Warning: Spoiler Alert for fans who have not yet watched Episode 9 of HBO's Game of Thones!)
The TV moment which made her cry
Which movie Carrie Preston has to watch whenever she spots it on cable
Who she once wrote a fan letter to
Which TV show Preston thought should have gone on forever
What her geekiest possession is
You can watch the video by clicking here.
Source: Entertainment Weekly – 'True Blood' star Carrie Preston takes EW's Pop Culture Personality Test — VIDEO
(Photo Credit: HBO Inc.)
Could Arlene Fowler Go Bad?
Recently Carrie Preston (who plays recently widowed Arlene Fowler in HBO's True Blood Season 6), sat down with Vulture.com to discuss just how Terry Bellefleur's (Todd Lowe) death has affected the Merlotte's waitress.
One of the first things to crop up, was how long did Carrie know about Terry's demise:
We knew really early on. They told Todd Lowe, and then Todd sent me a text message, "Adios Terry in episode six." I was like, "What? What?!" I was freaking out… It's such a sad, sad thing, and the writers took great pains to really show his PTSD.
In this week's episode, we saw Arlene stand up to the Bellefleurs and all they stand for, when they requested a military gun salute at Terry's funeral. Preston was relieved to see this happen. With all Arlene had endured, she is still that tough little battler we all know and love.
Even though fans love her, Arlene is considered one of True Blood's bigoted characters, when it comes to supernatural beings, there has certainly been a transformation over the years which sees her now biting her tongue or apologising when she does slip up and reveal her prejudices, as was seen recently in relation to her apologising to Lafayette (Nelsan Ellis):
She felt terrible about [snapping at Lafayette] the next day. She's clearly going through many extremes and is completely unhinged, and I think everybody understands where that's coming from. But when you're fundamentally  a bit narrow-minded, it's hard in moments of emotional extremity to not let those things come out. She's slowly starting to open her mind up to the possibilities of things she doesn't understand.
Could all this death around her, possibly bring out Arlene's darker side? According to Preston, she wished Arlene had dabbled in witchcraft!
Arlene's a very controlling person, and she could have put spells on people to control them.
Now wouldn't that be a sight to see?
You can view the entire interview with Carrie Preston by clicking here.
Source: Vulture.com – True Blood's Carrie Preston on TV Death, Day Drinking, and Arlene Going Dark
True Blood Season 6 Half Way Finished-Where Will the Next Episode Take Us?:
We are half way through Season 6 of HBO's hit show True Blood, and things just keep heating up!  The war between vampires and humans continues to escalate, while love and loyalties will continue to be tested.  We know that a major character is supposed to die in Season 6, and that it is to happen around the half way point, could Episode 6 be the ending for one our beloved characters?
HBO has released the details of Episode 6 of True Blood:
"Bill (Stephen Moyer) decides to seek out Lillith (Jessica Clark) for advice on handling the escalating human-vampire crisis. Eric (Alexander Skarsgård), Pam (Kristin Bauer van Straten), Nora (Lucy Griffiths), Jason (Ryan Kwanten) and Jessica (Deborah Ann Woll) get up-close-and-personal looks at the perverse perils of Vamp Camp. Sam (Sam Trammell) comes to a decision he hopes will be in Emma's (Chloe Noelle) best interest. Andy (Chris Bauer) gives his faerie daughter a name, or two or three or four. Arlene (Carrie Preston) has a solution to Terry's (Todd Lowe) malaise, and Eric makes a startling discovery".
This episode is written by Daniel Kenneth and Directed by Howard Deutch.
I can't help but notice that the main character Sookie Stackhouse(Anna Paquin) and Lafayette Reynolds(Nelsan Ellis) are not mentioned in the Press Release, when we last saw these two Layfayette's body had been taken over by Sookie's deceased father, who was trying to drown Sookie…I wonder if this storyline could be the major death plot line…Guess we will have to just wait and see!
Episode 6 aires this Sunday July 21 on HBO at 9:00pm ET/PT.
Check out the promo here for what's next on True Blood!

Source: Youtube: True Blood 6×06 Promo "Don't You Feel Me" (HD) Season 6 Episode 6
Spoilertv.com: True Blood: Episode 6.06 -Don't You Feel Me-Press Release
(Photo credit)HBO John P. Johnson
The Talented Actress Also Produces and Directs
In addition to portraying waitress Arlene Fowler on HBO's True Blood, Carrie Preston is proud to be a producer and director of independent films. As an actress, Ms. Preston's storyline on True Blood rarely intersects with those of other actors on the show. Despite that isolation, Ms. Preston believes Arlene has evolved slightly, over six seasons. Ms. Preston's evolution over six years has been as a producer/director of two independent films (Girl Talk, That's What She Said). She is currently directing a web series (Darwin), and passionately embraces the technology currently used to produce content.
As far as Ms. Preston is concerned, True Blood is a show about a bar. Her character, Arlene Fowler, is a waitress in Merlott's Bar and is rarely seen elsewhere. A few of the other sets, not used in Arlene's storyline, are on different stages and it's sometimes years before Ms. Preston even stops by to see them. She finds it exciting to watch a complete episode of True Blood, because she gets to see what her colleagues were working on while she was serving drinks. Despite Arlene's isolation, which lends itself to her representation of the narrow-minded and disenfranchised, Ms. Preston believes her character has managed to evolve slightly. She points out that vampire Jessica Hamby (Deborah Ann Woll) attended Arlene's wedding, which is a huge deal for her character.
In addition to True Blood, Ms. Preston has recurring roles on other shows such as The Good Wife and Person of Interest. However, her true passion is for independent film, which has grown out of her love for unique films:
"I definitely geek out over indie filmmaking," she laughs. "I have a production company and I've directed and produced two features and starred in a third. Right now, I'm directing a Web series [Darwin] some friends have written. We've got the first three episodes edited together, and now we're trying to figure out where we're going to put them. That whole world of indie content making and the equipment people use, the types of cameras and the new technology around, plus getting that content out to the viewer — all of that stuff is endlessly fascinating to me."
Ms. Preston is excited about being a filmmaker in the 21st century because the technology, particularly the internet, has allowed viewers to access a variety of movies and to select what they're looking for. The downside of this, according to Ms. Preston, is that viewers have grown to believe they deserve to receive content for free. Modern indie filmmakers haven't yet learned how to monetize the content they're producing. Additionally, the competition from big-budged studio television and movies is intense:
"We're competing with TV and film and the mall movies that are so spectacular, that sometimes our audience is not forgiving."
Still, Ms. Preston loves the technology used make movies, so much so that she refers to herself as the 'tech geek' in her marriage. Ms. Preston's husband is actor Michael Emerson (Lost), and they both appreciate the irony of his portraying a computer genius on his show, Person of Interest. Between the two of them, Ms. Preston says that she handles all things electronics, and that Mr. Emerson tackles the shopping, cooking and decorating. Ms. Preston finds it 'adorable' when Mr. Emerson calls to ask her questions about Java.
Source/Photo credit: GeekExchange
TrueBloodNet.com would like to wish Carrie a very happy birthday! May all your wishes come true!
(Photo Credit: HBO Inc.)
Carrie Preston Reflects on Arlene's Past and Future:
As well as starring as the fiery Arlene Fowler-Bellefleur on True Blood, actress Carrie Preston keeps her plate full by guest-starring on The Good Wife as well as being featured as her real-life husband's character's love interest on Person of Interest.
Of the three popular series, however, Preston has been with True Blood the longest. She spoke of her character saying:
"It is really fun to be able to play a character that I'm so comfortable with; that I've been learning about and experiencing for coming up on six years. To see her grow and my understanding of her grow, that has been a wonderful thing.  Plus, it has been such a rare and wonderful thing to have a steady job for this long.  I had never had any television or film gigs that were this long before, so I am obviously very grateful for that."
She also mentions that her time working on the Season 6 is nearing its end, as they're approaching readings of the eighth and ninth episodes with 10 episodes in total this season.
Where will season six bring Arlene? Preston teases:
"We're going to be picking up right where we left off in True Blood fashion.  In my storyline, we're going to see the ramifications of what Arlene and Terry did when Terry killed Patrick. So we're going to pick up with that and see how that effects them."
Reflecting back on the action in Season 5, Preston said the "smoke-monster" action stunned her as much as the audience:
"I had never even heard of an Ifrit, which is the fire monster, so that was definitely the most surprising, as far as my storyline goes."
In addition to her acting career, Preston also has a production company, where she directs, produces and stars in different films. The latest film under her direction is She Said, now available on iTunes, Netflix and Amazon.
But that's not all that's under Preston's behind-the-scenes belt:
"I shot three episodes of a web series, and when those are all edited together we're going to start a Kickstarter campaign to shoot the rest of it. Then I'm also starring and co-producing a film that's going to be shooting in North Carolina called Your Ass is Grass.  So I'll be doing that as soon as we wrap True Blood. I've got a lot of irons on the fire, so to speak."
We hope you keep them burning, Ms. Preston!
Source: TheTVAddict.com
(Photo Credit: HBO Inc.)
Season 6 Has More Characters in Store:
Carrie Preston has been very busy of late. While Arlene is returning to HBO's True Blood for Season 6, Preston also has a recurring role on The Good Wife this year. While there was very little Carrie Preston was allowed to say during her phone interview to The Huffington Post about the story lines in Season 6 of  True Blood, there were still a few tasty snippets:
It still has the flavor of "True Blood," as it always will, but it does have something — a little spring in its step in an interesting way, I think. Everybody is finding the new chemistry between all of that and all those players. And of course, with "True Blood," there's always still a million new characters that are being introduced. I don't know how they keep that many balls in the air and continue to juggle, but they do.
Besides True Blood and The Good Wife, Preston will be appearing along side her real life husband, Michael Emerson, in Person of Interest. In this role, she will be playing Emerson's love interest.
Source: The Huffington Post – Carrie Preston Talks 'The Good Wife' Return, 'True Blood' Changes And More
(Photo Credit: HBO Inc.)
Denis O'Hare goes from the Face of Anarchy as True Blood's Russell Edgington to the Face of the Law in The Good Wife
True Blood actor Denis O'Hare never seems to fail to exert his power over others: from the chaos-inducing, fairy blood-loving, 3,000-year-old vampire in True Blood to the voice of justice as a judge on The Good Wife, he sure makes others listen! However, even with his busy career, he still makes time for Twitter!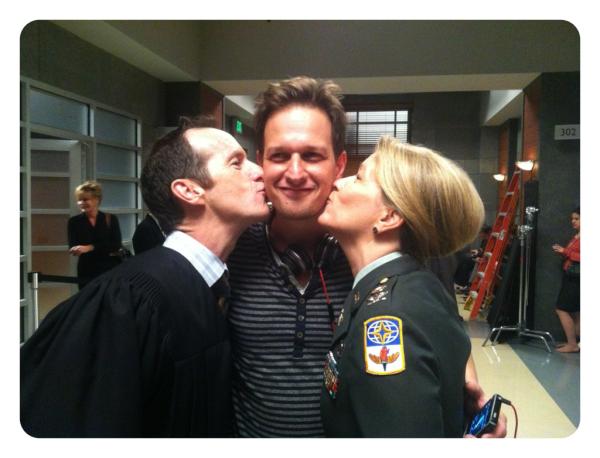 On August 28th, Mr. O'Hare tweeted a funny photo of himself and The Good Wife co-star Linda Emond and co-star and episode director Josh Charles. He then posted another picture of himself with other fellow actors Julianna Margulies and Brian Dennehy two days later.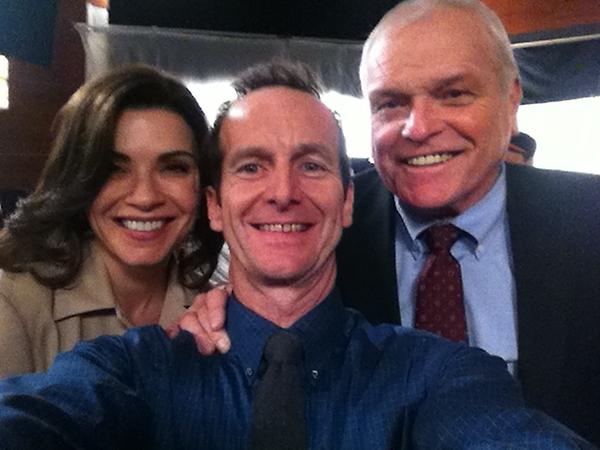 Denis O'Hare will be reprising his role as Judge Charles Abernathy now that his True Blood-filming days have come to an unfortunate end. He was seen on six other cases on The Good Wife from 2009 to 2012, so we're sure glad to see him back! No details have been released regarding this particular episode as of yet, but we're hoping maybe he'll have an encounter with Carrie Preston, also seen on True Blood as the sassy Merlotte's waitress Arlene, who also had a six-episode experience on The Good Wife as Elsbeth Tascioni, an eccentric lawyer.
What will Denis O'Hare bring to the courtroom? The Good Wife Season 4 begins Sunday, Sept. 30 at 9 p.m. ET on CBS. Tune in to find out!
Sources: WetPaint.com, Twitter