But You'd Better Hurry as There Are Only 2 Performances!
Denis O'Hare, who we all know as Russell Edgington the vampire king of Louisiana in HBO's True Blood, will be performing his one man show again. It's called An Iliad and it tells the story of the Trojan war as based on Homer's epic poem called The Iliad. If you live in the New Orleans area, or will be heading that way over the next few days, then why not check out Denis performing? You need to hurry if you are wanting to attend though as there are only two performances – and opening night is basically a sellout.
All the details are below (courtesy of Nola.com):
When: Sept. 27 and 28, 7:30 p.m.

Where: Contemporary Arts Center, 900 Camp St, New Orleans, LA 70130

Admission: $35 advance; $40 day of show. To purchase go to cacno.org or call 504.528.3800.

Party: The CAC and Scene Magazine are hosting a pre-event, industry mixer with a cash bar, Sept. 27, 5:30 p.m. until show time. The gathering takes place at the café inside the CAC and is free and open to the public.
While the pre-event party does not guarantee who will be attending from the production, there is the possibility that Denis O'Hare will be present.
Here's a preview trailer of Denis in An Iliad:
Source: Nola.com – Want to see 'American Horror Story' star Denis O'Hare in New Orleans? Better hurry!
(Photo Credit: Joan Marcus)
Michael McMillian, Denis O'Hare and James Frain Weigh in on the True Blood:
For fans of HBO's True Blood, there were three vampires on the show that were arguably discussed more than all the others: Steve Newlin (Michael McMillian), Russell Edgington (Denis O'Hare) and Franklin Mott (James Frain).
Steve was an anti-vampire religious zealot that was turned into a vampire and then came out to the world as not only being a vampire, but a gay vampire. Russell Edgington was the King of Louisiana who loved nothing more than to rip the beating heart out of newsreaders on national television.
Franklin, while his time was short on True Blood, was possibly the craziest of the three and had a unwanted crush on Tara Thornton (Rutina Wesley) back when she was still a human. At that stage, Tara was very definitely anti-vampire, but, as we all know, was turned later on when she was shot. Frain had this to say about Tara being turned:
When Tara became a vampire, I was like, "Oh! Then we could have gotten married!" [Laughs] She was the one that got away! I just messed it up. I was too forward. I was too eager. I should have held back. But Franklin genuinely thought he was in love with Tara. He thought it was a legitimate elopement, and then couldn't handle it. I think he needed quite a lot of therapy. Quite a lot.
The three actors got together recently to reminisce about their time on True Blood. Michael McMillian discussed how he is constantly being asked about who turned Steve into a vampire. He had this to say on the matter:
I would love to see how Steve became a vampire. It's a question I get all the time, from fans and friends — will we ever get to find out who Steve's maker is? I have my theories, though. In one script, in episode three of season five, it was going to be revealed that Salome was Steve's maker. I think he gave her a hug, and she said, "As your maker, I command you to let go of me." And then in a rewrite, that was taken out and the whole scene was changed, and that got lost, and it was never brought up again. So it was a mystery. I really wanted it to be Pam! [Laughs] There was a line when she was turning Tara, where she said she had done it once before and it didn't work out, so she has another progeny we don't know much about. So maybe during that year when Sookie was gone, she had to make Steve for some reason. [Laughs] But it doesn't save Steve from being executed by Eric. I think it's officially unofficial who Steve's maker is.
As for Denis O'Hare, he still watches the show and even has an alternate ending for how he would have liked the show to finish:
I was catching up last night [before the Season 7 finale]. It's a very weird magical world it creates. It feels like a version of reality that's really warped …It would be great to have a really tacky ending, in which you suddenly go into Bellefleur's, and a disco ball starts turning, and all the characters from the entire seven seasons suddenly start showing up and dancing. And you watch them all sort of dance with each other — Russell kind of sidles over and grabs Bill's [Stephen Moyer] hand, and they do a little dance. And then Talbot [Theo Alexander] comes in and he points, "Whoa! You're back!" And Franklin Mott walks in and everybody goes, "Franklin!" Something like that. A bad disco ending, I would take.
How would you describe your perfect alternate ending to HBO's True Blood? Let us know by commenting below!
You can read the full interview Michael McMillian, Denis O'Hare and James Frain did with Vulture by clicking here.
Source: Vulture – 3 Wild and Crazy Former Vamps Reminisce About True Blood
(Photo Credit: HBO Inc.)
The Convention Where You Can Go Into True Blood Overload:
If you're a fan of True Blood, the dead, the undead, anything paranormal or just damn right scary as hell then Parafest2013 is the convention where you can go into Fanboy/Fangirl overload.
Taking place at Sands Bethlehem Event Center in Bethlehem, Pennsylvania on September 7th and 8th 2013, this convention will have guests covering plenty of paranormal/horror genres.
Most importantly there will be a few of our favourites from True Blood.
Guests attending that are sure to excite all trubies will be the always friendly Sam Trammell (Sam Merlotte), Kristin Bauer (Pam), William Sanderson (Sheriff Bud Dearborne) and the brilliant actor Denis O'Hare (Russell Edgington).
Not only will you get to see the actors from True Blood there will also be stars attending from The Walking Dead (notably Michael Rooker who played crazy Merle Dixon), Supernatural and Ghost Hunters. There will even be a gallery reading with the well known Psychic/Medium Chip Coffey.
If you are lucky enough to live in that part of the world and can attend tickets can be purchased at http://www.parafest2013.com/
Sources: WetPaint.com – True Blood, The Walking Dead Stars Mingle at Parafest 2013 Convention!
Parafest.com – Parafest 2013 is Coming!
(Photo Credit: Parafest.com/HBO Inc.)
Dennis O'Hare Discusses An Iliad and True Blood's Russell Edgington
Fans of True Blood's resident (but now deceased) baddie, Russell Edgington are in for a treat with with this video. Currently, Denis O'Hare is eager to discuss the production of An Iliad,  a play he co-authored alongside Lisa Peterson, about the classic tale of war; The Iliad (written originally by Homer). The one man show stars Scott Parkinson, a story teller who struggles with the mythology and brutality of his poem (The Iliad).
Make sure you check out the full video below of Denis O'Hare as he chats to Reel Film News about his latest endeavour as well as his thoughts on being Russell Edgington in HBO's True Blood.
(Source: ReelFilmNew.com – The Studio Theatre: Exclusive Interview w/AN ILIAD Co-Author, Denis O'Hare!
(Photo Credit: HBO Inc.)
Another True Blood Cast Member is Becoming a Parent:
Actor Denis O'Hare, who played vampire Russell Edgington on HBO's True Blood, has announced that he and his husband are adopting a baby. Mr. O'Hare married Hugo Redwood last year in New York, and the happy couple is close to obtaining full guardianship of their foster son.
Mr. O'Hare says the boy is seventeen months and has been living with them since he was two weeks old. The True Blood nursery is filling up, since Anna Paquin (Sookie Stackhouse) and Stephen Moyer (Bill Compton) welcomed twins earlier this year.
Congratulations to all the new True Blood parents!
Source: E-Online
It's for the Best That Russell Met the True Death:
Denis O'Hare played 3,000 year old vampire Russell Edgington onscreen for only two seasons, but his presence definitely colored a third. Mr. O'Hare says that he had a great time working on HBO's True Blood, but there was no question that it was Russell's time to die. The love story between Russell and Steve Newlin (Michael McMillian) made working on Season 5 a pleasure, and Mr. O'Hare can't rule out a Godric-esque flashback for his character, but he maintains that true death at the hands of Eric Northman (Alex Skarsgård) was right.
Mr. O'Hare says that he didn't know definitively for some time that Russell was going to meet the true death. There was much discussion and controversy as to how it should happen. There was never any question that Russell would die at the hands of Eric, the only question was the circumstances. In the end, making him drunk on fairy blood and leaving him vulnerable to a sneak attack from Eric was the most plausible, given Russell's greater age and power. While some have speculated as to why Russell wasn't more strategic about the time of day he drank the fairy blood, Mr. O'Hare replied:
"There's no fairy blood handbook. No one has any schematics on how much fairy blood you should take to be in the sun, how long you can survive in the sun on it. Is it good for a year? A day? And Russell is more instinctual versus strategic. I'm not sure he has a plan, so he's not thinking, I should wait until 7:30."
The final moment of Russell's life pleased Mr. O'Hare. He enjoyed the disappointed but accepting reaction. Mr. O'Hare believes that Russell has lost the enjoyment of living and the pursuit of power simply is no longer enough. His attachment to Steve Newlin was pleasant, but simply not enough. Mr. O'Hare says that one of the most enjoyable things about Season 5 was working with Michael McMillian. They worked well enough together to be able to improv and adlib scenes and dialog. While much of it was edited out, there were still many things that made it to the screen.
Mr. O'Hare Talks of the True Blood Cast and Speculates on the Future
Of the many things Mr. O'Hare says that he will miss about working on True Blood, he names the cast as what he will miss the most. Not only did all the actors work well together, but they were friends as well, often hanging out together onset. One member of the primary cast (who Mr. O'Hare will not name), continued to advocate to keep Russell Edgington alive. Alan Ball and the head writers sadly could not agree and said:
"For credibility's sake, he has to go. We can't let him survive again."
Mr. O'Hare was asked to speculate on the future of True Blood storylines, and Russell's possible place in them. He says that Bill Compton's story is so divergent from the books there is no way to guess which direction it will go from here. While Mr. O'Hare has written a complete backstory for Russell, and provided it to the show writers, he has no idea if any of it will ever be incorporated into the show. For that reason, he's not sure if Russell's maker will ever become known, or if he has any progeny who might provide opportunities for flashbacks or visitations. Mr. O'Hare says that it's possible that Eric is the closest Russell has ever gotten to feeling as though he had a true son:
"There was a lovely scene in season three where Russell and Eric had an intense moment, where Eric accepts his authority, and kneels before him, and you discover how Russell never had a son and he adopts Eric. That scene was cut, but there is an echo of that when Eric kneeled before him again this season. And for Eric to take Russell's life, it was appropriate, and Russell knew that and he welcomed it. This was the only person he's ever accepted as a son."
How did you feel upon witnessing Russell's true death? Share your thoughts in the comment section below.
Article and Photo Source: Vulture
Denis O'Hare goes from the Face of Anarchy as True Blood's Russell Edgington to the Face of the Law in The Good Wife
True Blood actor Denis O'Hare never seems to fail to exert his power over others: from the chaos-inducing, fairy blood-loving, 3,000-year-old vampire in True Blood to the voice of justice as a judge on The Good Wife, he sure makes others listen! However, even with his busy career, he still makes time for Twitter!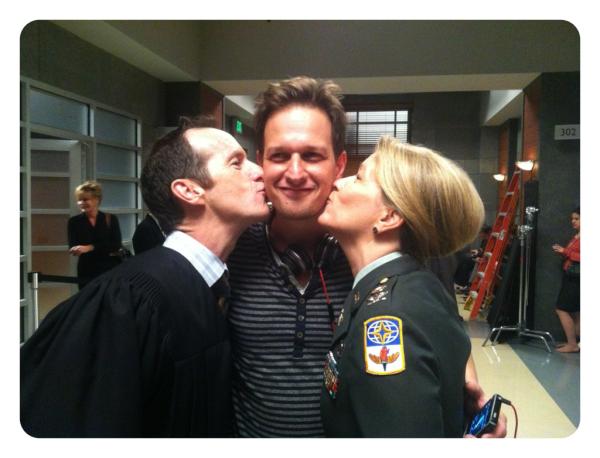 On August 28th, Mr. O'Hare tweeted a funny photo of himself and The Good Wife co-star Linda Emond and co-star and episode director Josh Charles. He then posted another picture of himself with other fellow actors Julianna Margulies and Brian Dennehy two days later.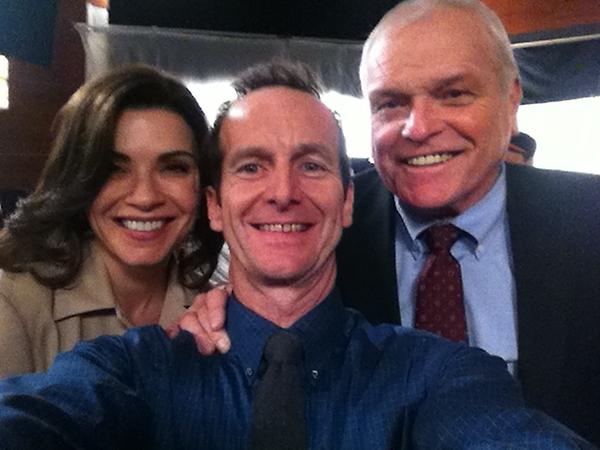 Denis O'Hare will be reprising his role as Judge Charles Abernathy now that his True Blood-filming days have come to an unfortunate end. He was seen on six other cases on The Good Wife from 2009 to 2012, so we're sure glad to see him back! No details have been released regarding this particular episode as of yet, but we're hoping maybe he'll have an encounter with Carrie Preston, also seen on True Blood as the sassy Merlotte's waitress Arlene, who also had a six-episode experience on The Good Wife as Elsbeth Tascioni, an eccentric lawyer.
What will Denis O'Hare bring to the courtroom? The Good Wife Season 4 begins Sunday, Sept. 30 at 9 p.m. ET on CBS. Tune in to find out!
Sources: WetPaint.com, Twitter
New Couples, Old Adversaries, a Long Awaited Backstory:
When the cast of HBO's True Blood turned out for the Season 5 premiere, they were interviewed on the red carpet. Everyone was happy to share information and insights into their characters and the events of the show itself.
*Warning: Mild spoilers ahead!
Alan Ball said that Season 5 is the season of church and state. It's the season of politics and religion from the vampire perspective. When asked about Scott Foley's character, Patrick, Mr. Ball explained that he made a bad decision in the heat of battle and it has far reaching consequences. Finally, Mr. Ball alluded to the introduction of some new romantic couples. He couldn't elaborate because it would give too many story details away.
Jacob Hopkins (Alexander) described his character as feisty and strong minded. He says Alexander grew more obnoxious with each episode.
Denis O'Hare (Russell Edgington) said that vampire politics are the focus of Season 5. Mr. O'Hare explained that when people are brought back to life, they have to lose something. With Russell's resurrection, he has lost his vicious ambition. In its place are a playfulness, ease, and humor. But make no mistake, Russell is still really dangerous. He still kills a lot of people, and kills them with glee. When asked, Mr. O'Hare said it took Russell about 4-5 episodes to heal. Most intriguingly of all, Russell unexpectedly falls in love again.
"Something happens from across the room. Something happens while sharing a body. Someone you know. You'll be very surprised  by it."
Lucy Griffiths (Nora) explained that Nora and her 'brother' Eric love each other very much but haven't seen one another in a long time. Their relationship can be very fraternal, in that they can be very aggressive toward each other. They make a great team when they work together but otherwise they just mess each other up.
Stephen Moyer (Bill Compton) talked of the close relationship that developed between his character and Eric Northman (Alexander Skarsgård).
"We're good friends and it's been a lot of fun. And we sort of love each other."
Kristin Bauer van Straten (Pam) shared that Nora's appearance caused a little bit of trouble for Pam. Ms. Bauer van Straten explained that she and Alex have been asking for Pam's backstory for years and were thrilled to finally see it played out. She says the story explains the Pam we know.
Kelly Overton plays a new werewolf character named Rikki. She describes her character as a strong, resourceful werewolf, the opposite of the damsel in distress. She's determined to find out what happened to the Pack Master and is not loving Alcide at the moment.
Rutina Wesley said that, despite people's doubts, Tara is coming back.
Michael McMillian (Steve Newlin) said that becoming a vampire might be the best thing that's ever happened to Steve. At first, he wondered if Steve would be self-loathing but the reality is, he's very attracted to power. Jason is the guy Steve always wanted to be and he's coming after Jason. But, Jason has a new vampire friend in Jessica.
"If you mess with Jason, you mess with Jessica."
Apparently, the first four episodes are a Pam tour de force, and the origin story between Pam and Eric is fantastic. Fans don't have long to wait now. Season 5 of True Blood premieres on HBO June 10th.
Check out the video below, if you'd prefer to skip to the good stuff (strictly True Blood related), it starts right before the 3-minute mark. Enjoy!
Source: TVLine
Less Than 30 Days to True Blood Season 5!
The posters are out for the HBO True Blood stars for season five! There will be one for each actor and we at TrueBloodNet.com have decided to present one per post in order to give each it's own top billing. Two seasons ago Denis O'Hare burned up the screen as Russell Edgington the Vampire King of Mississippi. But Vampire Bill and his new buddy Eric Northman, with the help of Sookie's blood burried Russell under several tons of cement after Eric killed his long-time lover: Talbot in an act of long awaited revenge for the king slaughtering Eric's family. We can hardly wait to see how Russell got free and how he's going to mix it up! Call your friends, the party will be ON in season 5 of True Blood.
Photo Credit: HBO
Denis O'Hare adapts Homer's Iliad for the New York stage:
Denis O'Hare, who plays the Vampire King of Mississippi Russell Edgington in HBO's series True Blood, has recently adapted Homer's epic poem, 'The Iliad', for the New York stage. Collaborating with friend, Lisa Peterson who also directs, O'Hare wrote, and plays the leading role in this one-man play, 'An Iliad'. Stephen Spinella (Angels in America) alternates performances with O'Hare.
In the early days of the Iraq War, Peterson approached O'Hare about adapting the story of the Trojan War as a platform for performance. They worked on the project periodically over the course of five years until they had a script. When asked how the work was condensed to create the script, O'Hare answered:
"We decided the most basic structure is Achilles meets Hector, the symbols of Greece and Troy respectively. We focused our stories around that central conflict with everything else radiating outward."
O'Hare addressed the differences in acting for both stage and screen. He explained that each has benefits and drawbacks. "Actors must understand the medium in which they are working so they can adjust their performances accordingly."
True Blood update
When the subject of True Blood came up, O'Hare said that he would be returning to the HBO series during the run of 'An Iliad'. He explained that he is scheduled to film briefly in mid-March:
"Then I'm back in L.A. at the end of March to shoot some more. I've read about six scripts. They've got some very nice stuff planned."
'An Iliad' officially opened March 6 with O'Hare and March 7 with Spinella at New York Theatre Workshop, 79 East 4 St., NYC. 212-460-5475.
Source and photo: Back Stage