Carrie Preston is Happy With Arlene and Keith's Love Story:
A fondness for vampires has been a long time coming for Bon Temps waitress, Arlene Fowler. When HBO's True Blood started seven seasons ago, Arlene was decidedly anti-vampire. But for Carrie Preston, the actor who portrays the redheaded character, she is glad Arlene has come full circle:
It was a great build. It builds up over the seasons, as opposed to breaking down or kind of fizzling out — it was the opposite. I feel like I had a great climb, and where it ended up was perfect… She has really grown more than a lot of the characters — to have her at the beginning be so terrified of vampires and at the end actually starting a relationship with one, that's a remarkable thing.
Preston has also confirmed that this relationship will solidify and grow throughout the final few episodes of True Blood. Which is nice to see after all the broken relationships and heartbreak that has befallen her, starting with having a murderous ex-husband and ending just last season with the loss of Terry Bellefleur (Todd Lowe).
Arlene has not grown into a vampire appreciating member of society, but many characters on the hit show now look to Arlene for advice, the most recent being Sam Merlotte (Sam Trammell). Now that she runs and owns Bellefleur's (formerly called Merlotte's), it seems Arlene has settled into a nice groove in her life, even if she confessed to Sam that she is only pretending to be happy in the hope that eventually will actually be happy. And, speaking of Merlotte's, playing a drunk Arlene has been among Carrie's fondest memories of being Arlene:
I'm pretty partial to drunk Arlene. Even from day one — in the pilot, she's in the back of the bar, saying something like "It's that vampire." Then you jump ahead to when she sees Bill (Stephen Moyer) walking in daylight, that line "Y'all, I'm wasted," and then in just episode five when she sees Keith and says, "I have to go make tinkle because I am a human." She's pretty funny.
You can read Carrie's full interview with The Hollywood Reporter by clicking here.
What's your favorite Arlene moment? Let us know in the comments below!
Source: The Hollywood Reporter – 'True Blood's' Carrie Preston on Arlene's Love Interest: 'She's Got Somebody to Lean On' (Q&A)
(Photo Credit: HBO Inc.)
Arlene Fowler and Betty get Personal:
Many fans of HBO's True Blood were intrigued by the death of vampire Betty in Episode 2 (entitled I Found You) of True Blood Season 7. It seemed they were wondering whether Betty died because of an accelerated version of Hep-V or whether she possibly died because of something special in Arlene Fowler's (Carrie Preston) blood.
Besides this dilemma, how did HBO even go about getting a person to explode while drinking blood from the femoral artery of Arlene? It seems Carrie Preston was happy to spill the beans in that department:
It's a practical effect that actually happened between my legs," she said with a laugh. "I ended up calling that doll De-fellatio [Laughs]—lady between my legs! I don't know if you can print that, but that's what I called her. De-fellatio remains very much part of that scene and it gets very scary, it gets very scary as the next couple of episodes are pretty terrifying…These Hep-V vampires are no joke…[T]hey're still vampires and even though they're weak, they're still vampires and they're stronger than humans.
While the mechanics of this scene is quite hilarious to think about, Carrie then goes on to drop the following bombshell:
The carnage does not end after episode two.
Oh. No.
Let us know your thoughts on just how bad it could get for Arlene and the others in the basement of Fangtasia by commenting below!
Source: E!Online – Carrie Preston Breaks Down True Blood's Exploding Vampire, "De-Fellatio"
(Photo Credit HBO Inc.)
Could Arlene Fowler Go Bad?
Recently Carrie Preston (who plays recently widowed Arlene Fowler in HBO's True Blood Season 6), sat down with Vulture.com to discuss just how Terry Bellefleur's (Todd Lowe) death has affected the Merlotte's waitress.
One of the first things to crop up, was how long did Carrie know about Terry's demise:
We knew really early on. They told Todd Lowe, and then Todd sent me a text message, "Adios Terry in episode six." I was like, "What? What?!" I was freaking out… It's such a sad, sad thing, and the writers took great pains to really show his PTSD.
In this week's episode, we saw Arlene stand up to the Bellefleurs and all they stand for, when they requested a military gun salute at Terry's funeral. Preston was relieved to see this happen. With all Arlene had endured, she is still that tough little battler we all know and love.
Even though fans love her, Arlene is considered one of True Blood's bigoted characters, when it comes to supernatural beings, there has certainly been a transformation over the years which sees her now biting her tongue or apologising when she does slip up and reveal her prejudices, as was seen recently in relation to her apologising to Lafayette (Nelsan Ellis):
She felt terrible about [snapping at Lafayette] the next day. She's clearly going through many extremes and is completely unhinged, and I think everybody understands where that's coming from. But when you're fundamentally  a bit narrow-minded, it's hard in moments of emotional extremity to not let those things come out. She's slowly starting to open her mind up to the possibilities of things she doesn't understand.
Could all this death around her, possibly bring out Arlene's darker side? According to Preston, she wished Arlene had dabbled in witchcraft!
Arlene's a very controlling person, and she could have put spells on people to control them.
Now wouldn't that be a sight to see?
You can view the entire interview with Carrie Preston by clicking here.
Source: Vulture.com – True Blood's Carrie Preston on TV Death, Day Drinking, and Arlene Going Dark
The Talented Actress Also Produces and Directs
In addition to portraying waitress Arlene Fowler on HBO's True Blood, Carrie Preston is proud to be a producer and director of independent films. As an actress, Ms. Preston's storyline on True Blood rarely intersects with those of other actors on the show. Despite that isolation, Ms. Preston believes Arlene has evolved slightly, over six seasons. Ms. Preston's evolution over six years has been as a producer/director of two independent films (Girl Talk, That's What She Said). She is currently directing a web series (Darwin), and passionately embraces the technology currently used to produce content.
As far as Ms. Preston is concerned, True Blood is a show about a bar. Her character, Arlene Fowler, is a waitress in Merlott's Bar and is rarely seen elsewhere. A few of the other sets, not used in Arlene's storyline, are on different stages and it's sometimes years before Ms. Preston even stops by to see them. She finds it exciting to watch a complete episode of True Blood, because she gets to see what her colleagues were working on while she was serving drinks. Despite Arlene's isolation, which lends itself to her representation of the narrow-minded and disenfranchised, Ms. Preston believes her character has managed to evolve slightly. She points out that vampire Jessica Hamby (Deborah Ann Woll) attended Arlene's wedding, which is a huge deal for her character.
In addition to True Blood, Ms. Preston has recurring roles on other shows such as The Good Wife and Person of Interest. However, her true passion is for independent film, which has grown out of her love for unique films:
"I definitely geek out over indie filmmaking," she laughs. "I have a production company and I've directed and produced two features and starred in a third. Right now, I'm directing a Web series [Darwin] some friends have written. We've got the first three episodes edited together, and now we're trying to figure out where we're going to put them. That whole world of indie content making and the equipment people use, the types of cameras and the new technology around, plus getting that content out to the viewer — all of that stuff is endlessly fascinating to me."
Ms. Preston is excited about being a filmmaker in the 21st century because the technology, particularly the internet, has allowed viewers to access a variety of movies and to select what they're looking for. The downside of this, according to Ms. Preston, is that viewers have grown to believe they deserve to receive content for free. Modern indie filmmakers haven't yet learned how to monetize the content they're producing. Additionally, the competition from big-budged studio television and movies is intense:
"We're competing with TV and film and the mall movies that are so spectacular, that sometimes our audience is not forgiving."
Still, Ms. Preston loves the technology used make movies, so much so that she refers to herself as the 'tech geek' in her marriage. Ms. Preston's husband is actor Michael Emerson (Lost), and they both appreciate the irony of his portraying a computer genius on his show, Person of Interest. Between the two of them, Ms. Preston says that she handles all things electronics, and that Mr. Emerson tackles the shopping, cooking and decorating. Ms. Preston finds it 'adorable' when Mr. Emerson calls to ask her questions about Java.
Source/Photo credit: GeekExchange
Carrie Preston Reflects on Arlene's Past and Future:
As well as starring as the fiery Arlene Fowler-Bellefleur on True Blood, actress Carrie Preston keeps her plate full by guest-starring on The Good Wife as well as being featured as her real-life husband's character's love interest on Person of Interest.
Of the three popular series, however, Preston has been with True Blood the longest. She spoke of her character saying:
"It is really fun to be able to play a character that I'm so comfortable with; that I've been learning about and experiencing for coming up on six years. To see her grow and my understanding of her grow, that has been a wonderful thing.  Plus, it has been such a rare and wonderful thing to have a steady job for this long.  I had never had any television or film gigs that were this long before, so I am obviously very grateful for that."
She also mentions that her time working on the Season 6 is nearing its end, as they're approaching readings of the eighth and ninth episodes with 10 episodes in total this season.
Where will season six bring Arlene? Preston teases:
"We're going to be picking up right where we left off in True Blood fashion.  In my storyline, we're going to see the ramifications of what Arlene and Terry did when Terry killed Patrick. So we're going to pick up with that and see how that effects them."
Reflecting back on the action in Season 5, Preston said the "smoke-monster" action stunned her as much as the audience:
"I had never even heard of an Ifrit, which is the fire monster, so that was definitely the most surprising, as far as my storyline goes."
In addition to her acting career, Preston also has a production company, where she directs, produces and stars in different films. The latest film under her direction is She Said, now available on iTunes, Netflix and Amazon.
But that's not all that's under Preston's behind-the-scenes belt:
"I shot three episodes of a web series, and when those are all edited together we're going to start a Kickstarter campaign to shoot the rest of it. Then I'm also starring and co-producing a film that's going to be shooting in North Carolina called Your Ass is Grass.  So I'll be doing that as soon as we wrap True Blood. I've got a lot of irons on the fire, so to speak."
We hope you keep them burning, Ms. Preston!
Source: TheTVAddict.com
(Photo Credit: HBO Inc.)
Denis O'Hare goes from the Face of Anarchy as True Blood's Russell Edgington to the Face of the Law in The Good Wife
True Blood actor Denis O'Hare never seems to fail to exert his power over others: from the chaos-inducing, fairy blood-loving, 3,000-year-old vampire in True Blood to the voice of justice as a judge on The Good Wife, he sure makes others listen! However, even with his busy career, he still makes time for Twitter!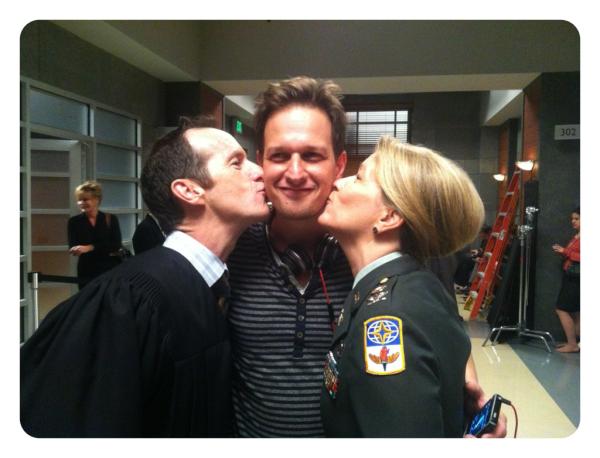 On August 28th, Mr. O'Hare tweeted a funny photo of himself and The Good Wife co-star Linda Emond and co-star and episode director Josh Charles. He then posted another picture of himself with other fellow actors Julianna Margulies and Brian Dennehy two days later.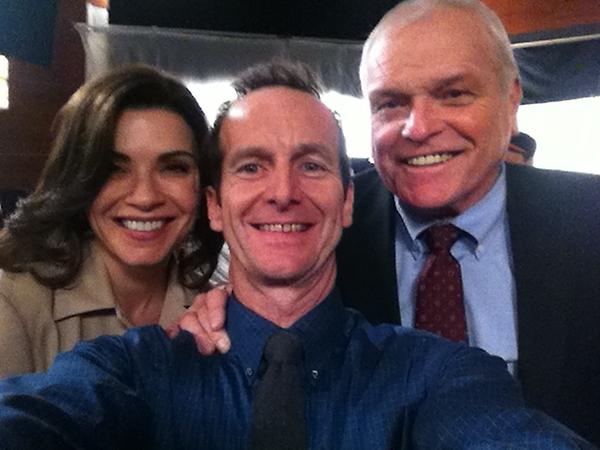 Denis O'Hare will be reprising his role as Judge Charles Abernathy now that his True Blood-filming days have come to an unfortunate end. He was seen on six other cases on The Good Wife from 2009 to 2012, so we're sure glad to see him back! No details have been released regarding this particular episode as of yet, but we're hoping maybe he'll have an encounter with Carrie Preston, also seen on True Blood as the sassy Merlotte's waitress Arlene, who also had a six-episode experience on The Good Wife as Elsbeth Tascioni, an eccentric lawyer.
What will Denis O'Hare bring to the courtroom? The Good Wife Season 4 begins Sunday, Sept. 30 at 9 p.m. ET on CBS. Tune in to find out!
Sources: WetPaint.com, Twitter
Todd Lowe Answers Fan Questions About Season 5:
Recently, Bon Temps' resident Army vet answered some fan questions on Uinterview.com. One fan asked what he thinks is going to happen with Terry and Arlene's relationship. According to Lowe, while he can't predict the future since that is up to the writers, he believes "in his heart that Terry loves Arlene and he's going to hold her as close as he can." Aww! That Terry is so sweet!
Another fan asked if Lowe has had to play Terry differently since he's started a family with Arlene. Lowe indicates that since meeting Arlene and starting a family, the "storm in his mind" has passed, but "maybe we're just in the eye of the hurricane." Hmm, foreshadowing much? Watch the video below to see his answers to these and other fan questions!
Source: Uinterview.com
Arlene Fowler's Character Has Evolved but Remains a Source of Comic Relief:
Carrie Preston, who plays quirky and prejudiced waitress Arlene Fowler, answered questions from fans about Season 5 of HBO's series True Blood. Ms. Preston is a graduate of Julliard, is married to actor Michael Emerson (Person of Interest, Lost), and is also a director and producer. In her interview, she answers questions about all of these topics, as well as Arlene's role as a source of comic relief.
Season 5 has shown fans the evolution of Arlene's character, according to Ms. Preston, giving her a deeper storyline and more emotional depth. She also says that she has faith in the show's writers, and has no problem putting Arlene's character in their hands.
"One can even say that she stands for a little bit of intolerance which we see a lot in society. But what has been fun for me is seeing how the writers are starting to trust me as the seasons have gone on, with more a dramatic story line, a deeper story line, more emotional accessibility to Arlene and from Arlene."
Vampires and Werewolves Seem Real with the Context of Humans
Ms. Preston believes that what makes True Blood a believable show, despite the presence of supernatural beings, is that it is rooted in reality. Despite the fantasy aspect, True Blood explores the human experience, which gives fans a believable context.
When asked about Arlene's relationship with Terry, Ms. Preston explains that she is happy with the consistency that relationship has provided the show. Still, she confirms that Arlene and Terry will have problems in Season 5, due to Terry's past.
"Arlene is someone who wants to always have a man in her life and Terry is the best one yet. So she does everything she can to fight for it."
While she has never considered the mash-up of True Blood and Lost that her marriage to Lost star Michael Emerson suggests, Ms. Preston does recognize the mash-up of fans of the two shows. She suspects the fantastical elements of both shows are what attract the same fans.
"I love it, I love doing it, I love being able to see something start from an embryonic stage and then just grow into a full grown being."
Ms. Preston is a producer and director, in addition to being an actor. She loves all three jobs and never wants to have to choose between them. She counts herself lucky that being an actor has given her access to so many good directors. Ms. Preston is very proud of the film she directed last year. That's What She Said has debuted at Sundance, as well as other film festivals.
You can watch the video below, or read the transcript by clicking on the source link.
Source: UInterview.com
(Photo Credit: HBO Inc.)
Carrie Preston Directs Feature-Length Independent Film:
Actress Carrie Preston portrays waitress Arlene Fowler on HBO's True Blood. She recently went behind the camera to direct, 'That's What She Said'. Ms. Preston's production company, Daisy3Pictures, produced the film that was shown at the 2012 Sundance Film Festival.
The trailer for 'That's What She Said' would lead you to think the movie is about a woman getting support from her friends after her date stands her up. Really, it's about BeBe, seeking support from her cynical best-friend Dee Dee, the day of the most romantic date of her life. They find themselves inexplicably joined by Clementine, a stranger-turned-friend, who has just endured a break-up and can't stop discussing a certain part of her anatomy. Ms. Preston explains:
"As the day goes on, the friendship gets more honest, more crude, and it introduces one of life's greatest riddles; why does everything always have to be so hard?"
'That's What She Said' is based on the play, 'Girl Talk'. The play was written by a friend of Ms. Preston, Kelly Overbey (Unforgettable, The Good Wife), who also appears in the film. Ms. Preston directed the play eight years ago and always dreamt of one day helming the film. The cast also includes Anne Heche (Hung), who plays cynical best-friend Dee Dee; Marcia DeBonis (Curb Your Enthusiasm) reprises her lead role in 'Girl Talk', BeBe; and Alia Shawkat (Arrested Development) rounds out the cast as self-professed nymphomaniac, Clementine. Ms. Preston describes the film as:
"It's a look at how friendship can survive chronic sarcasm, bizarre stranger danger, an unexplained itch, and a dangerous dildo."
Ms. Preston's film, 'That's What She Said', has been accepted for screening by several film festivals, some or all of which, Ms. Preston will be attending.
Atlanta Film Festival
Friday, March 30th
Soho International Film Festival
Saturday, April 14th
San Francisco Women's Film Festival
Sunday, April 15th
Sarasota Film Festival
Wednesday, April 18th
Nashville Film Festival
Saturday, April 21st
USA Film Festival
Saturday, April 28th
Check out the trailer, and let us know what you think!
That's What She Said – The Official Trailer from David Hudson on Vimeo.
Source and photo credit: thatswhatshesaidmovie.com
Merlotte's is Up and Running:
For all those Truebie fans who can barely survive the 9 month hiatus between seasons, good news is in store for you. The sets have been dusted off and are ready to be used for production.
 All set and ready to go as well, is our favorite feisty redhead, Arlene Fowler — AKA Carrie Preston, who Tweeted the following photo:
We can't wait to see what hijinks are in store for Merlotte and his employees this year!
Photo Credits: HBO